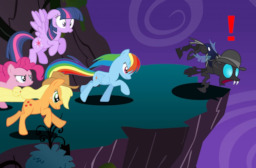 You are a changeling who finds himself (yes, changelings can disguise as either gender, but for the sake of simplicity he's a guy, Okay?) in the Everfree forest after the failed assault on Canterlot (You can thank the Queen for that...).
Your landing wasn't exactly the smoothest (in fact, I think you broke a few things), so your memories are fuzzy and the few things you can remember include basic skills, a knack for "hide and seek" and knowledge of movies and serials (you always were a reel buffbug).
And as if Fortuna wasn't kind enough to you, you're lost in a forest, trapped behind enemy lines, can't locate your Hive (although that might not be a bad thing...), and you've never exactly been a lucky bug. You just need to get out of this gorram forest and avoid getting caught or killed (your whole kind is wanted for being the buggy-est wedding crashers in Equestrian history).
What will you do?
Inspired by The Life of a Wanted Changeling (Comment Driven Story) by Down with Chrysalis
Rated "Teen" to give more freedom to commenters.
Chapters (26)