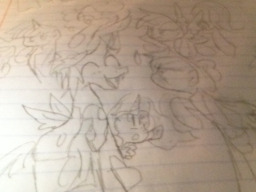 Now a member of the Tournament of Canterlot
Sponsor page : TOC - The Life of a Wanted Changeling Season 1 and 2
You are a changeling lost in the Everfree forest a couple of weeks after the failed invasion attempt at the royal wedding. You're not the brightest changeling out there and you tend to be really clumsy. You only have two goals in your mind right now, one is to get out of this blasted forest, and when you do get out, try not to get captured. Your whole kind is wanted by the royal guard after all.
[New} BY Episode 14 I have a editor, so give thanks by then to Jeray2000 for it, check him out and other stories he's edited for here
lNew]New} Episode 33 was edited by Kersey475. He/she will be substituting for my editor until he gets back from his trip. So give credit to him for awhile ok.
[New]New]New} The cover image belongs to forevertheDoctor, not me.
Chapters (73)