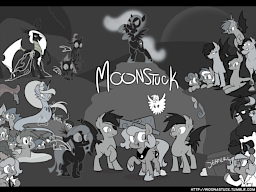 Source
Update: I MADE IT TO EQUESTRIA DAILY!
A Princess in a mood of reminiscence.
A sufficiently curious audience.
A pensieve that strangely enough would only work in grayscale.
There are a bunch of stories left untold by the creators of the show. Luna just happens to be the star of one of them. After all, if you were now Princess Luna and all of a sudden you were stuck on the moon... What would you do?
A story about a humour blog about a pony on the moon.
Written with the permission of egophiliac.
....
I understand that there was another novelisation being written, but that one has been on hiatus for a really long time now...
Update: Thorax gave me his blessing :D
Also, check this out. It's an experiment, an ask driven story.
Chapters (3)