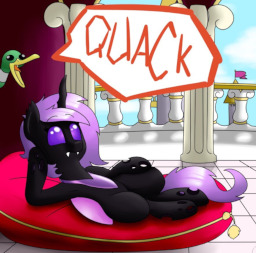 The Hive of White Tail Woods.
Haven't heard of it? Then I'm pleased that we've been doing our jobs.
Let us explain; We are in no way, shape (shifted or not) or form related to Chrysalis' plans or actions. We do not siphon love from ponies or creatures otherwise.
We 'harvest' Harmony.
Not the Elements of Harmony themselves, mind you. Simply put, we garner Cooperation, Friendship, Kindness and Altruism.
We don't replace your friends and loved ones, so don't get your 'Mob Supplies'.
However good our intentions, Chrysalis has painted every changeling as a hostile agent to Equestria, and the fate of my struggling Hive and adopted children is in jeopardy.
Does diplomatic immunity apply to foreign agents? I'm new to this 'Politics' thing.
I'm only a Proto-Queen after all.
*****
The first chapter of the Sequel is out!
https://www.fimfiction.net/story/339280/the-ambassador-of-evil
Cover art by Honey-Juicy!
Search them on Tumblr!
There are a few beginning chapters that are a little crazy to read, but I promise that It will make sense, and fit the story overall. I'm still new to writing, and everypony makes mistakes!
Do you have a question to ask the Queen?
Join the Hivemind!
Chapters (25)