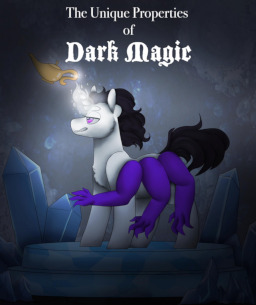 Source
Given a unique perspective on negative emotion, less than a foal's knowledge of ordinary magic, a healthy schadenfreude, and danger bearing down on all sides, the self-proclaimed "Weiss Noir" makes no plans accounting for his death, and plans to keep it that way, even after being torn away from earth, turned into a unicorn, and dumped into one of the most inhospitable locations and times in all of Equestria.
Stranded in the Frozen North, a place where biting cold ends lives, and one thousand years in the past, in a time when peril is the norm, rather than the exception, Weiss decides to indulge in sorcery most foul, stolen ideas, and human ingenuity to survive.
Given the choice between a mad slaver and a mad sage, however, there is no avoiding an inevitable tide of ponies escaping the conquered Crystal Empire to bask in the warmth of his well-stoked hate. Something which draws attention, enemies, and most worryingly, the rivalry of his "peers".
Chapters (159)