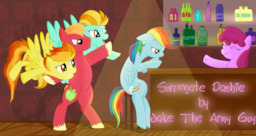 Source
Rainbow Dash's life is pretty sweet right now. She's a full-fledged Wonderbolt, she has a hot coltfriend, and all the fame, fortune, and glory that she could dream of. Yes, Dash is living the dream, all thanks to her being the most awesome mare in Equestria.
However, while on a date with said hot coltfriend, Rainbow Dash learns that there are drawbacks to being so awesome.
My part of a shipping trade between myself and The Fantabulous Mr. Lemur. Eternal thanks go to Marshal Twilight, Captain Unstoppable, and Bad_Seed_72, whose help made this possible.
Cover art graciously done by the insanely awesome KarmaDash!
Chapters (1)