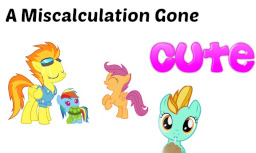 Spitfire has taken time to show Rainbow Dash and Lightning Dust around after graduating at Wonderbolt Academy. When she has them try something new she brewed up, something happens none of them saw coming.
Warining: diapers, age regression and cuteness involved along with some comedy. Do not read if your heart is not strong enough to take it. Please read and give me positive comments and constructive criticism as always. Hope you enjoy the story.
A special thanks to ShadowBlades for the image to this story. Another special thanks to Maroonlover for editing my story.
Chapters (7)