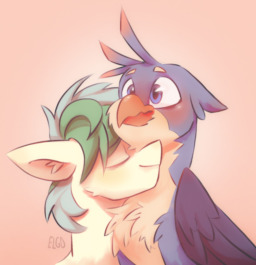 Source
Hearth's Warming Eve is here once again, and rather than missing their families two years in a row, Gallus all but demanded his friends return home for the holidays. Deciding that the School of Friendship's dorm was more comfortable than the Griffonstone halfway house, he elected to simply remain in Ponyville, brood a bit, and pointedly try to ignore the happy chorus outside.
But then Sandbar just had to go and ruin it by being the great friend that he is.
---
This was written for str8aura as a part of Jinglemas 2020! For more information about Jinglemas, checkout our group!
Chapters (1)