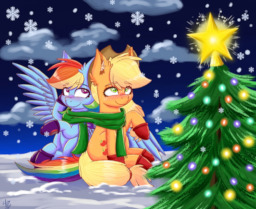 Source
Rainbow Dash and Applejack have finally admitted to themselves and each other what they always sort of knew, and are now a happy couple. The only step left is telling the rest of the Apple clan after a nice Hearth's Warming Dinner. However, newlyweds Big Macintosh and Sugar Belle have a big announcement of their own to make.
Which they do.
Kind of...
---
Pre-reading done by Pascoite, Georg, and Edward256.
Written for Dreadnought for Jinglemas 2021. Prompt:
I'd love to see Applejack at the very least, and Scootaloo if the author could make it work.
Chapters (1)