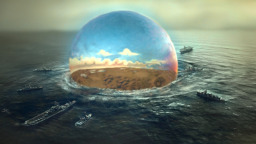 A year ago, a portal opened, linking Equestria and Earth.
And then it began to grow.
The two worlds slowly began to merge. Thaumatic radiation, vital to ponies but deadly to humans, spread across Earth, as unstoppable as the tide. In a last ditch effort to save the human race, mankind worked with the ponies to create a serum that will "convert" humans into ponies, allowing them to survive in this new integrated world.
Now, upon the day of Integration, all of mankind has converted.
Except for one man.
Meet David, the last human, and hear his message.
Based on The Conversion Bureau: The First Year by Cloudhammer.
Cover art by aealacreatrananda, used without permission.
Featured on Equestria Daily!
Chapters (3)