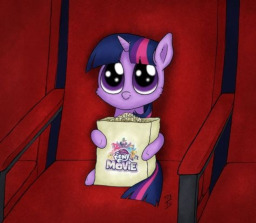 Source
It's movie night at the Castle of Friendship, and James has brought along one of his favorite comedy movies along. Featuring copious amounts of wordplay, visual gags, suicidal passengers, and drinking problems, Airplane! is hailed as one of the greatest comedy films of all time on Earth, but will that standard of comedy carry over onto Equus? James certainly hopes so.
Unfortunately, while Spike is easily entertained, James discovers that Twilight is a bit of a comedy snob. What follows is overanalysis, overthinking, and the cardinal sin of talking during a movie. How will they all make it through the night? Will Twilight find legitimate entertainment at even one joke? Will Ted Stryker land the plane safely? Will Leslie Nielsen's career ever resurge? Surely Twilight will at least come to understand that Jive isn't an actual language, right?
Probably not.
---
This story is a submission to the writing group Movie Night which is a collaborative effort that looks to engage as many people, be they writers or not, to try their hand at writing about their favorite ponies and movies! Go give it a look and add your story to the club!
---
Pre-read by Clopficsinthecomments
Cover art by 123TurtleShell.
Chapters (1)