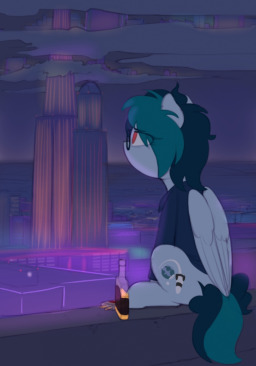 Source
---
---
There comes a point in everyone's life where the only thing left to do is tear down everything you have, turn your life upside down, and start from scratch.
Having just experienced the hardest and roughest breakup of their lives, Delta Vee and Jet Stream have both reached that exact point, and now have to cope with being on their own again.
---
Just like Black Honey and Fast Car, this story is entirely based on Shinodage's ask blog telling the story of Delta Vee and her family. As always, all credit for the characters (and the awesome cover art!) goes to Shino!
---
Again, cheers to NumberEight and Pahnazd for their proofreading and editing!
---
This story was heavily inspired by the eponymous song by Rise Against.
Chapters (1)