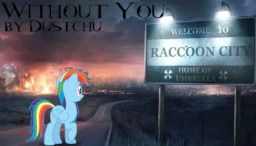 ---
It's a horrible city filled with monsters, horrible and deadly monsters. And an unlikely duo by the name of Dustin and Rainbow Dash will have to come together if they want to get out alive and escape this hell, known as Raccoon City.
As these two try to escape... one question rings through our heroes' minds.
Why me?
---
---
Huge thanks to Alex_ for the coverart

Thank you so much buddy!
Feature Lite: 1/23/2018
Feature Regular: 2/15/2018
---
Here it is, since early 2014, it's finally been set free. Honestly, this story is... something important to me, something cathartic if you will, something I needed to get done, something that I should have gotten done years ago but let my own problems with self loathing and just general disregard for shit get in the way. Regardless... here it is, I hope you all enjoy.
Chapters (24)