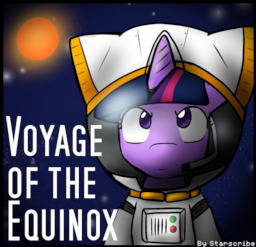 Twilight Sparkle was only a filly when Equestria detected the enigmatic Signal. A series of increasingly complex mathematical proofs, the Signal transformed from an intriguing curiosity to reliable evidence of extraequestrian life.
And as it happened, Equestria's exploration of their own solar system was nearly complete. With colonies orbiting every planet and large body, and an asteroid belt filled with miners and prospectors, Twilight's civilization was just about ready to turn its focus outward. The signal was less than ten light-years away, within reach of a daring, experimental voyage. A voyage Twilight Sparkle would lead.
Along with a small crew of the most skilled scientists and engineers Equestria could offer, Twilight is determined to uncover the mystery of the Signal, and brave the final frontier for future generations of Equestrian explorers.
A comment-driven, CYoA story. Please use the links provided in the author's notes of each chapter to vote, rather than the comments.
---
This story is a creative experiment of mine, one meant to explore the general idea that creativity is often most fostered by restrictions. As a result, I've imposed a number of restrictions on the writing of this story, which I'm stating explicitly here so I can be called out if I break any of them.
1. Brevity is the soul of wit
No chapter may be more than 1000 words long. This wordcount only includes prose, and not the questions/rolls.
2. Every choice matters
When a choice is offered in a chapter, at least one sub-optimal choice must be present, with no indication about which is which other than the prose itself. Every chapter should end with a CYoA-style decision tree when possible.
3. Fate is cruel and the universe is heartless
The decision of the vote must be respected. This means any character could be killed, or the entire story could end in failure, if that's what the votes decide. Where numbers, stats, and randomization appear in the text, these elements are not verisimilitude, but are decided by public diecrolls in my discord server.
Note: Because of the unusual production of this story, its chapters won't be edited in the same way as my usual fare. Feel free to point out any mistakes you encounter.
Awesome cover by Zutcha as you can probably tell. Editing stuff by Two Bit and Sparktail, where applicable.
Chapters (136)