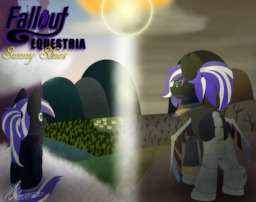 It's been four years since the Lightbringer walked the Wasteland, shaking the world to its very core. Now however, the forces of change have begun to stagnate. With the fall of the Enclave and Red Eye and division of the Steel Rangers, numerous factions have risen to take their places. Fighting to gain freed power and resources reaches from the streets of Fillydelphia and Manehattan, to the southern borders of the fledgling New Canterlot Republic, and even north into what remains of the Crystal Empire.
A chapter of Steel Rangers, turned on by their own kind and forsaken by Wastelanders, travel north into the icy wastes, following intelligence of a preserved Stable buried beneath the abandoned crystal city of Amor. However, the ponies of Stable 13 aren't the shrinking violets usually found in the great underground shelters.
For forty years, parties of Stable 13's dwellers have traveled the Wasteland, moving among the shadows as average merchants, mercenaries, and raiders. Keeping their true nature and origin secret as they gathered materials and equipment to keep their home intact. The Rangers would not be able to simply waltz into their abode without paying a steep price in blood.
In the end, few survive the battle and those that do are left to the frozen wastes to be hunted by a sadistic mercenary named Wintermail. She searches for information once thought long lost, held by a mare believed to be long dead. Now, a shadow of Old Equestria and a young star of the future must fight for survival and struggle to find a place in a world falling into the grips of chaos.
Will the wheels of change bring about a great new era or grind the Wasteland into oblivion?
---
Newly rewritten as of 1-7-18 See here.
Formerly Preread/Edited by:
ClickClackTheBrony
Cover Art by Hoodwinked Tales
High Honors to Kkat
However, I still feel like expressing special thanks to:
Somber - FO:E Project Horizons
NCMares - Night Mares
The Price of Loyalty crew
Alaxsxaq - The Wanderer of the North
Christian Cerda - My Little Portal
And two years ago me that reveled in edge like it was no one's business
Chapters (10)