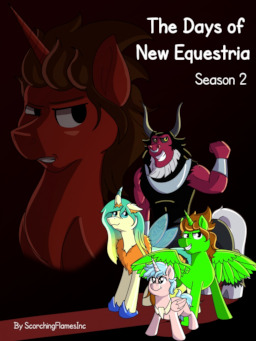 This story is a sequel to My Little Pony: The Days of New Equestria (Season 1)
---
Welcome back to Equestria, the magical land of friendship! The team of four returns once again in all new adventures and slice-of-life stories. Equestria continues to bring many new things such as a new romance, a new pet, a new ally, and a new villain.
They'll learn the hard way that one of their greatest enemies are their inner demons.
Watch as our heroes continue their adventures, and soon learn the importance of choosing love and forgiveness over hate.
---
Cover art made by Little Tigress
Thanks to Indigo Lightning Strike and MarlonCalpe40000 for helping me edit.
The fourth story in The Reformverse.
Click here to go back to where it all began.
Non-listed tags include: Romance (due to some Chrysalis X Tirek shipping) and Dark (which will be rare but occasional).
---
Chapters (9)