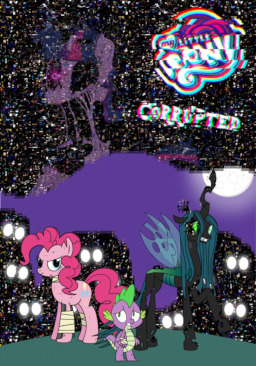 In these dark hours of Equestria, caused by an entity unknown, nearly the entire population of ponies and creatures turn from their innocent selves into c̶o̷r̶r̵u̶p̸t̴e̶d̷ mindless monsters. Survivors are scattered throughout the land, and all hope seems slim.
With unlikely allies, friends turned to foes, and danger lurking in every corner, could Equestria be truly salvageable, or is this the end as we know it, the world's fate sealed to the d̷a̶r̴k̴n̶e̵s̶s̶ forever?
It started with a scream when the clock struck midnight.
---
A story about the "Learning with Pibby" corruption in Equestria.
If by chance you don't know much about the original idea, then feel free to click here to see the original source: https://youtu.be/Btu0O47u3rY
Note: Gore tag is present due to descriptions of some corrupted characters. However one chapter does contain a scene of dismemberment, and another a slight description of impalement
(Credit for glitch texture goes to someone on YouTube, JimmytheDrawer. No, he doesn't make MLP content or is even a fan of the show as far as I know, just giving credit where it's due)
Chapters (25)