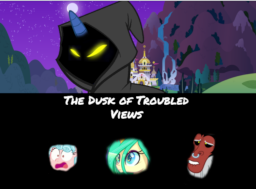 This story is a sequel to The Dawn of a New Mission
---
After reforming, Chrysalis, Tirek, and Cozy have low confidence in gaining the trust of Equestria's citizens. But when a mysterious cult banishes them to an unknown world, the three former villains end up on a wild adventure... with three odd bipedal creatures.
---
The second story in The Reformverse
NOTE: I SUGGEST YOU READ THE PREQUEL, 'THE DAWN OF A NEW MISSION', BEFORE READING THIS!!!
Wanna see more updates, previews, or plans for this story and its sequels? Be sure to check my blog every once in a while!
Chapters (35)