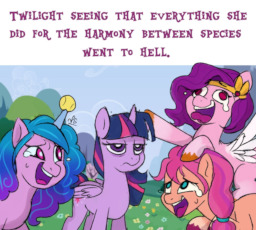 Source
It was a normal day in Equestria, until it wasn't.
Princess Twilight Sparkle is about to discover what happens when corporate focus groups dictate the direction of a franchise. The future is here, Boomer, and it is made of yeet.
---
Rated N for Noice Not Very Cash Money. Contains no G5 spoilers! Like, I didn't even get their names right! Cover art by LilPinkGhost!
Chapters (1)