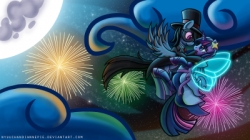 Source
It's been five years since she first met them, and most of Twilight Sparkle's friends have found love, leaving her feeling left out and unwanted. The Winter's Eve Ball promises a magical night of mystique and romantic wonder, but will Twilight's romantic notions get the best of her? Based on the song by the Fireman.
Originally published on Equestria Daily November 29, 2011.
Be sure to check out the song by Baron Thyrai!
Chapters (1)