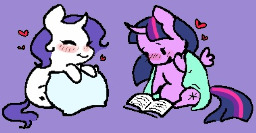 Source
In an effort to encourage reading and writing in Ponyville, Mayor Mare launched a project inviting ponies to write their autobiographies for storage in the Castle's Library. However, despite her thrilling life, Rarity simply didn't have the time to sit down and write her autobiography, no matter how badly Twilight wanted her to do it.
...Then again, she wasn't all that good at not catering to the alicorn's every adorable whim.
---
Small Raritwi fluffshot. The ridiculously adorable cover art was done by the awesome King-Snail.
Chapters (1)