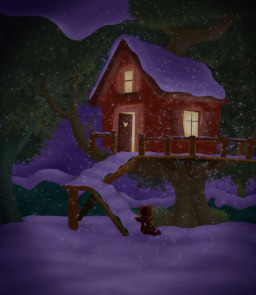 One night as Apple Bloom is trying to sleep, she thinks she hears... something in the distance. A light is on in the CMC Clubhouse. She goes to investigate, and what she finds shivering in the snow will change her life forever.
Runner-up for the Halloween in April horror contest.
Edited wonderfully by Professor Hyde White, Horse Voice, Cyanhyde, Titanium Dragon, Georg, Babroniedad, Ponibius, and Comma-Kazie
... wow, I had a lot of editors. Lots of great people on this site.
Featured on EQD 06/11/2020
Now with an amazing reading by FaolanCortez!
Chapters (1)