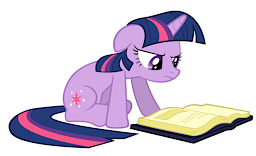 TD Harrison Powell, the human that first came to Equestria in No, I am NOT a Brony, GET ME OUTTA EQUESTRIA!!! has been in Ponyville for about three months when Twilight realizes something interesting: she doesn't really know that much about humans and how they work. Sure TD is receptive to her interviews for the most part, but he can't tell her everything and she wants to find out about how he acts casually.
So she decides to stalk him for science!
This is a little one-shot I decided to make while I'm waiting for my pre-readers to get the next chapter to me. This is canon and isn't supposed to be taken seriously at all.
Inspired by, but not ripped off of, Mood Wings
Chapters (2)