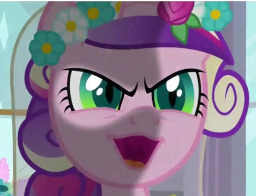 Sergeant Stronghoof has been given the highest honor that a guard can hope for. Without being promoted to Captain of the Guard, that is. He has been given the assignment to be a bodyguard to Princess Cadence herself; during her wedding no less!
Now, technically he shouldn't listen in on her when she's getting ready for her wedding, but she's rumored to have a lovely singing voice. Once she begins singing, he overhears some interesting things.
Written because while This Day Aria is a spectacular song that I adore, I can't help but feel that her singing so loud would have attracted attention, especially when you consider that Twilight heard what the real Cadence was singing.
Chapters (1)