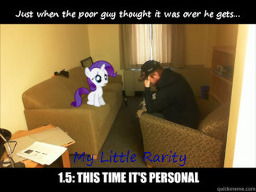 A spinoff of TD's Little Rarity and yes, you definitely have to read that one before you get this one.
Takes place in the middle of TD's Little Rarity. After TD and Rarity are captured by the government, the FBI transports them to a secure location. However, word gets out thanks to a news chopper that a magical pony might be on Earth, and the convoy is attacked and Rarity is taken.
And boy is TD pissed off about it.
Written because I had a dream like this, yes, with Rarity, and I woke up before I could see how it ended.
Chapters (9)