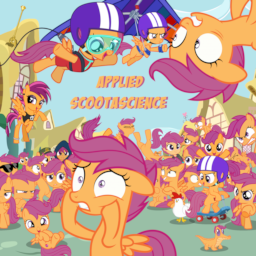 Why trying one method of learning to fly at a time when you can clone yourself and try all of them at once? Scootaloo, with a little help from her friends, is about to make this work.
Ponykind is about to change forever.
Preread by Cinder Vel, hawthornbunny, RK_Striker_JK_5, Sollace, and Telaros. Updated on Tuesdays and Fridays.
Russian translation by repitter:
Google Docs
Ponyfiction
---
Coverart created using vectors by: austiniousi, BestTubaHorse, CantercoltZ, Cheezedoodle96, CyanLightning, DeadParrot22, DisneyEquestrian2012, Firestorm-CAN, CloudyGlow, J-Pinkie, kuren247, lightningtumble,  Sollace, Scootaion, qazwsx302, SketchMCreations, slb94, thatguy1945, theairgonaut, TomFraggle, and DerAtrox (Scootaloo), DragonChaser123 (chicken), php10 (Scootacane), and BonesWolbach (background)
Chapter picture vectors by AugustTheHedgehog and php10
Chapters (6)