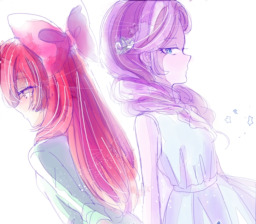 Source
It's the Canterlot High yearly Harvest Festival and Silver Spoon, Sweetie Belle, and Scootaloo are frustrated how their friends are ignoring their hearts.
But, Apple Bloom didn't want to go to the Festival to get her heart broken twice over.
Diamond Tiara didn't want to risk seeing Apple Bloom with someone else.
Can their friends really show them how wrong they truly are?
---
Edited by OkemosBrony and Feather Note.
entry in: Amore's DiamondBloom Shipping Contest
Featured on the non-mature box: 8/29/2017
Chapters (1)