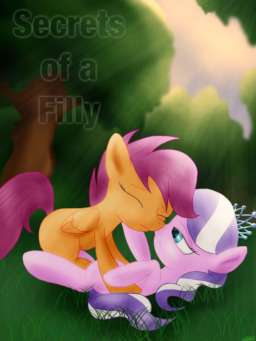 (( Warning: This story hasn't been altered or modified since its entry into the contest. It has minor grammar issues and I am well aware of that, but I left it as is because that is how it was entered into the contest. Just a heads up because I am getting lots of feedback regarding the same issues.))
Sometimes secrets are best kept hidden, and sometimes they shouldn't be secret at all. The fillies are about to learn a valuable lesson that a certain filly was keeping from those she knew.
What happens when secrets unravel and the fate of five fillies are changed forever?
Second place in The Cuteness Overload Official Contest
Art by the wonderful iJab
Featured: 11/04/13 Thanks for all those who have read and enjoyed the story :)
Chapters (1)