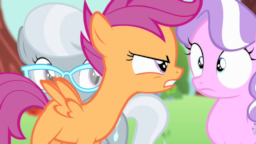 Sweetie Belle has a new spell she wants to try out with her friends. Diamond Tiara and Silver Spoon are bored and follow Filthy Rich to Sweet Apple Acres. When Sweetie Belle's spell goes awry, Scootaloo and Diamond Tiara pay the price. For them, it seems a fate worse than death.
They have switched bodies.
Now they have to navigate each other's world while working with their enemy to find a solution.
Chapters (2)