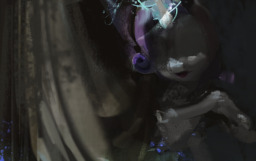 In the middle of the night, Rarity is awoken by a noise from downstairs.
But it's alright, because all she needs to do is quickly make sure everything's okay. Then she can go back to bed.
Then it'll be over.
---
Winner of the horror-themed 4th Koren's Kontest for the My Little Story Contest writing group. Originally this was done in an hour and unedited. This version here has received some slight refinement. The prompt was 'Mirror'.
Chapters (1)