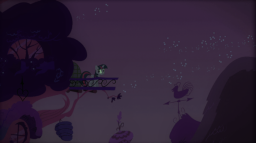 There is no such thing as a gut feeling, not really. If you suddenly start to feel afraid for no apparent reason, it's very unlikely to be anything serious. But it doesn't make it feel any better does it?
Twilight is up burning the midnight oil again, when suddenly every sense she has tells her that something is terribly wrong. There can't be anything really wrong though, not in reality.
Can there?
---
A short experiment in atmospheric horror.
Featured in the Royal Canterlot Library on 26/04/19
Now featuring readings by ColonialPone here, and by MrSnarky here.
Chapters (2)