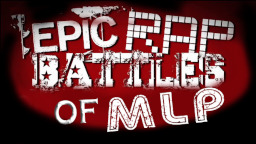 Something I just couldn't get off my mind until I wrote it down. Be warned: the ponies in these battles really go off on each other. Almost exactly like it is in "Epic Rap Battles of History", except with less cursing. There's plenty of verbal bashing, though.
Vinyl Scratch is the DJ for most of these battles, and will be doing the all-caps commentary (except for the ones she's in, of course). OC tag because of slight self-insert.
I've heard that this story is better when read with someone else. You know, with each person doing one half of the rap battle?

List of Rap Battles (as per request)
#1: Twilight Sparkle vs. Rainbow Dash
#2: Pinkie Pie vs. Rarity
#3: Spa Sisters vs. Flim Flam Brothers
#4: Octavia vs. Vinyl Scratch
#5: Angel vs. Gummy
#6: Derpy Hooves (Ditzy Doo?) vs. Lyra Heartstrings
#7: Princess Luna vs. Discord
#8: Scootaloo vs. Pipsqueak
#9: Fluttershy vs. Screwball
#10: Apple Bloom vs. Diamond Tiara
#11: Trixie vs. Featherweight
#12: Silver Spoon vs. Spike
#13: Sweetie Belle vs. Queen Chrysalis
#14: Applejack vs. Carrot Top
#15: Bon-Bon vs. Lyra Heartstrings
#16: Twilight Sparkle vs. Rainbow Dash (rematch!)
#17: Big Macintosh vs. Shining Armor
#18: Iron Will vs. Photo Finish
#19: Gilda vs. Prince Blueblood
#20: Nightmare Moon vs. the Doctor (Doctor Whooves)
#21: Princess Celestia vs. Princess Luna
#22: Snips and Snails vs. Twist and Ruby Pinch
#23: Braeburn vs. Soarin'
#24: Zecora vs. Cheerilee
#25: Winona vs. Opalescence
#26: Derpy Hooves vs. Pinkie Pie
#27: Spitfire vs. Daring Do
#28: Princess Cadence vs. Queen Chrysalis
#29: Babs Seed vs. Lightning Dust
#30: Sunset Shimmer vs. Trixie *
#31: tba
Picture by Silversnow here on this site.
...should there be a 'sex' tag, considering some of the stuff brought up in the rap battles?

Chapters (75)