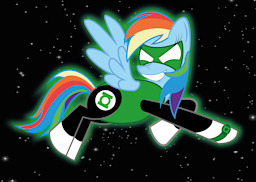 Source
Things were normal for Ponyville, but then a glowing green ring appeared to change everything. And it is only the beginning...
Consultant: the ever-helpful ianmoone.
Teen right now, just to be safe. Please note that, while the mane six is one of the character tags, it will be a while before Applejack shows up. There will probably be a little violence in later chapters. Will add characters and tags as they are introduced/needed. Will probably only focus on red, yellow, green, blue, indigo and violet lantern corps, one character in each (notice the wording).
Chapters (14)