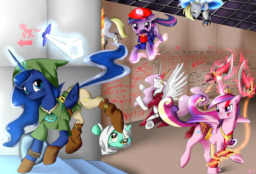 Source
This story is a sequel to Old 'Luna Plays' Chapters
---
Luna Plays is currently going under some major changes sometime later. To stay on the know, click here to read the fine details.
~ 5/27/2015
---
[Warning:] This story comes with spoilers of video games.
Princess Luna was angry upset at her sister for not spending enough time with her. Very angry upset. So Celestia, goddess of the sun, decided to introduce her to video games. Thanks to the invention of the Interactive Pony Visor, Luna could now freely explore the virtual realm of video games. These are her documented adventures in the world of virtual reality and fun.
Author Notes:
- Coauthor: *Sandcroft*
- Editor: ultra1437
- Former Editor: The Princess Luna. Edited chapters will be marked by two stars on both sides **like so.**
- The password for all unpublished chapters I've have links to to will be mlp. These links are most likely found at chapters marked with Revised or Rewritten.
Cover Art History
First one - Gamer Luna's All Nighter by Sallymon

Second one - Two Best Sisters Play by Daughter of Fantasy

Third one - Gamer Luna Desktop by Ruby-Sunrise

And finally, props to Daughter of Fantasy yet again for the 4th (and final) cover art of Luna Plays. She is Best Fan Artist!


Gamer Luna Fan Art #2 Contest
Congratulate her for being one of the winners! Go to askprincessmolestia's tumblr to check it out!
Copyright Stuff
To avoid being sued by companies with a lotta lawyers, all copyright content belongs to their respectful owners.
Chapters (14)