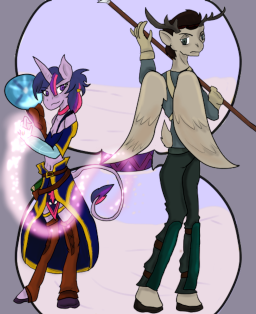 Source
Celestia awakens from a nightmare, a vision of a future that no one in her nation wants to see. So what's she to do?
She sends Twilight to fix it. Of course.
That's not to say she isn't unprepared; she gave her a notebook with a couple spells. She doesn't expect what they'll do when she casts them, though... nor does she expect both her and her opponent to be taken for a ride.
---
A cross between Groundhog Day and every crossover ever. The time loops are never the same!
Also may contain elements of Fall of Equestria.
This story is more of a pet project than anything. If you can help make it better, then please let me know what I can do to facilitate that.
Also open to suggestions for upcoming chapters from readers. Every one will prove to be interesting in one way or another!
Cover art by Silverwolflaguz.
Chapters (16)