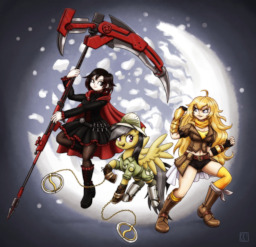 Source
Legends. Stories scattered through time. Mankind has grown quite fond of recounting the exploits of heroes and villains, forgetting so easily that we are remnants, byproducts, of a forgotten past. However, just as even the smallest spark of hope is enough to ignite change, a small warp can affect the lives of many.
Such is the case when a small pony ends up in the world of Remnant.
---
Inspired by Tatsurou's PWNYverse.
Co-written by Rhino.
Fact Checker: position open.
Chapters (16)