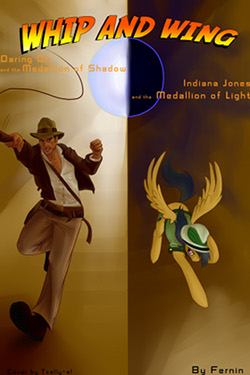 The Medallion of Light and the Medallion of Shadow are some of the most powerful yet obscure artifacts of antiquity. Created by a now-vanished cult of assassins, the two devices together give their bearer the incredible power to walk the worlds with but a single step.
Nefarious forces are closing in on both artifacts, and very little stands in their way. Heinrich Himmler's agents covet the medallions for the greater glory of the Third Reich. Ahuizotl's simply want their master to get what's coming to him: the world, and everything in it.
With the fate of all good people and ponies in doubt, one thing's for certain: saving two worlds would be one hell of an adventure. And if adventure has a name, it must be Daring Do… or is that Indiana Jones?
Will our heroes win the day? Find out in... Daring Do and the Medallion of Shadow! Or, Indiana Jones and the Medallion of Light!
---
NOTE: there will be some violence in this story, but nothing more than you would expect to see in an Indiana Jones movie-- so I didn't check the "gore" content box.
Artwork by Tzelly-el.
Special thanks to SapphireStarlightPony & Rated Ponystar for helping with the brainstorming on this one.
Thanks to this stupid thing I've had the Indiana Jones theme song stuck in my head for like the past four days and I am about to claw my eyes out AAAAAAAHHHHH @_@
Chapters (12)