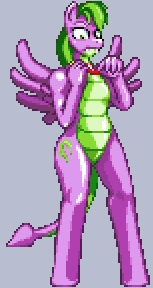 "Congratulations, Spike! You're the new Rainbow Dash!" Twilight may have said those words in the heat of the moment, but what if it were true?
Discord, spirit of chaos and infinite jest, manages to play yet another trick on Twilight and her friends by making her hasty solution more real than she could have imagined... in his own rather idiosyncratic way, of course.
...But how will the original Rainbow Dash deal with her chaos-twisted, semi-official replacement? And can Spike really take the place of everyone's favorite speedster?
Short answer: Probably no.
Long answer: Well, read the story and find out!
A/N: This is kind of against my better judgement since I usually publish entire rather than serially, but let's see how it goes. I can always delete it all and claim it never happened, later. 8 D
(Illustrations in this story are courtesy of Unnoticeableperson. Warning, rest of gallery may not be as work safe as this image is)
Chapters (5)