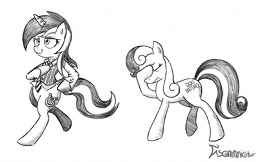 This could be Lyra's big break: she's the warmup musician for the first annual Running of the Leaves autumn concert! The audience will be huge, and if the musician does well, she could be on her way to bigger and better things! But it's going to be hard to prepare in the few days she has left, so Lyra really needs to work hard to be ready.
Unfortunately for Lyra, her mind doesn't seem to be at home right now. Instead, her body is being controlled by a very surprised MLP:FIM fan named Lyle Hartman. He doesn't know the first thing about playing the lyre, but time stops for nopony and the show must go on. So all Lyle has to do is figure out a way to get back to his proper world (and hopefully bring Lyra's mind back to wherever it went) before the unicorn is expected to perform on stage. Easy, right?
...Now if only Lyle could get somepony to believe him.
------------------
Artwork by Discommunicator! Thanks for letting me use your art for this; it fits well!
Chapters (8)