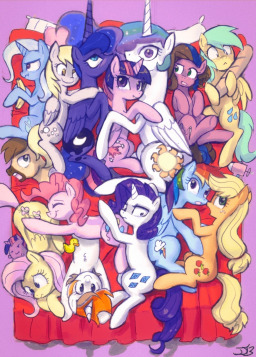 After Luna had been banished to the moon, Celestia got drunk, real drunk. Drunk enough to make up several laws she completely forgot about for a thousand years. What happens when Luna discovers one of these laws, and what's worse, she actually likes the sound of it.
Complete chaos as the mane six now find themselves unintentionally being wed to two Princesses.
Very much inspired by the old: Six Brides for Two Sisters story by Equus Palladus.
Chapters (7)