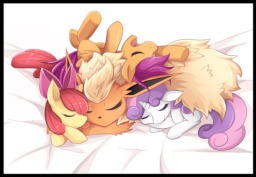 Source
Many millennia ago, Pokemon used to roam the world of Equestria freely. Then, one day, they simply vanished... One day, a crazed stallion decided to mess with something that should have been left alone. With Pokemon suddenly appearing in Equestria once more, how will Equestria cope with change, especially when the Pokemon appear to be more than what the myths said?
(Formerly known as "Faraway World of Our Dreams".)
This idea came to mind when I saw all of the Human-turned Pokemon in Equestria fics, and I thought, "Hey, maybe I can make a unique spin on it!" So that's how this came to be. Hopefully, aside from a random twist here and there, you'll enjoy a (relatively) realistic take on HiE as Pokemon. Will update sporadically, whenever I get ideas and have time to write.
Disclaimer: I do NOT own Pokemon, nor do I own My Little Pony: Friendship is Magic. They are owned by Nintendo and Hasbro respectively. I claim no credit, ownership, etc, and ask that you support the official shows.
Chapters (42)