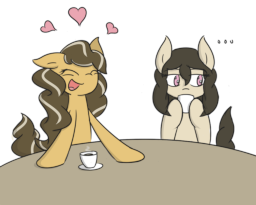 Source
Maple Blush was just a simple pony trying to do what her cutie mark said she did best: help bring ponies together. She might not be the strongest psychic in Equestria, and she could barely afford to be in the yellow pages, but still! It all had to count for something, right? Seeing into ponies hearts to bring them together, that… That was her talent, no matter what else happened. So what happens when she's hired to help a "love-sucking bug" tell her roommate she not only has a crush, but is another species?
Originally posted on DeviantART for TheNornontheGo's "Our Character" contest. Maple Blush belongs to her, not me.
Similarly, Vanilla Chai does not belong to me either. She was generously offered to borrow by Wintergreen Diaries (previously known as Cerulean1313.) All credit goes to him for allowing me the use of his character.
My Little Pony: Friendship is Magic is owned by the great and powerful Hasbro, not myself. No copyright infringement is intended by this fanfiction. All rights reserved to Hasbro.
Chapters (1)