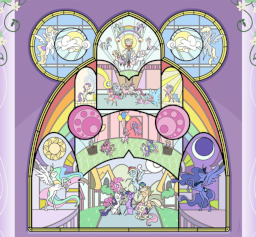 Megan Richards is a normal, everyday wife and published author of 'My Little Horsey'... however the tales she writes about aren't fiction, but stories from her past. She thought she put the world of ponies behind her, but sometimes the past has a habit of catching up with you...
G1 meets G4 in a hopefully epic tale of the past, the present and the future.
I own nothing, also, minor cameos from other Hasbro properties such as Jem and the Holograms, Transformers G1 and GI Joe.
Cover image made by the very talented Egophiliac and from here.
fanfiction.net link!
Equestria Daily link... one of these days.
TV Tropes page
All the Tropes page
Sequel: The Conversion Bureau: United We Stand
Side-stories and mini-arcs not able to fit into the main narrative: Side Stories of First Contact
Chapters (37)