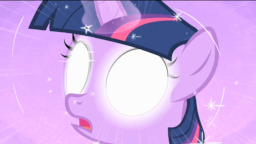 During her entrance exam, Twilight's powers goes far out of control, leaving Celestia a shell of herself and Equestria in ruins. Now Nightmare Moon is free, but even she can't stop the Tyrant Filly. She flees through time and space, finding herself in an Equestria familiar to us but odd to her. Can the Mane Six help her stop a Twilight out of control?
Fanfiction.net link here!
Weekly featured fic in Authors Helping Authors group
TV Tropes Page, with sincere thanks to DrTempo.
Chapters (12)