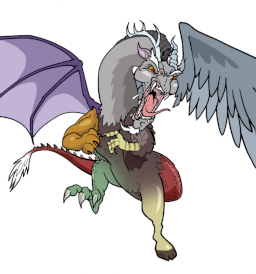 Source
This story is a sequel to The Conversion Bureau: United We Stand
---
Discord's time of freedom draws near. Celestia has prepared, though. The Bearers of the Elements of Harmony stand ready to seal him up once more. Everything will go according to plan... but whose plan?
A story in the Hasbroverse, taking place a few weeks after the Conversion Bureau: United we Stand, the tail end of season two and late 2012.
Please ignore anything from the My Little Pony comic, especially concerning Cosmos. I do not read them.
Cover art was done by Inspector97 on DeviantArt. Source is here.
Chapters (14)