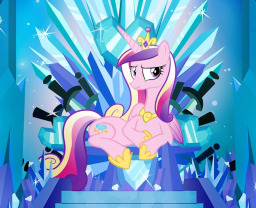 Source
An ancient tradition, a balance of power, political maneuvering of the highest order.
None of these appear here. Instead, enjoy a lighthearted look at the princesses as they try to figure out how to fit Twilight into one of their favorite activities.
WARNING!:
I've never seen a second of Game of Thrones nor read a single page of A Song of Fire and Ice. This is is no way based off anything from that. You may thank Stryke for the impetus for me to get this done and for the cover art..
Chapters (1)