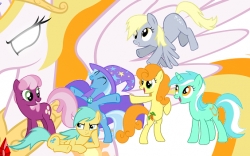 Trixie Lulamoon, the personal student of Princess Luna, has finally, through a combination of reasoning, pleading, and whining, managed to convince the princess to invest some real responsibility in her, and give her a chance to show off everything she's been learning while under the alicorn's wing. Luna has appointed Trixie to be the official representative of her Night Court to the town of Ponyville, which this year will be hosting the Longest Night Celebration. Trixie is additionally tasked with overseeing the preparations for that festival.
At first, things seem to be going less than swimmingly. The catering is way too many kinds of apples, the weather patrol is far behind, the musical maestro is nowhere to be found, and the decorations could use significant toning down. To top it all off, Trixie can't help but feel that this was less an appointment to a position of real responsibility, and more an informal exile from the Night Court. Still, things could be worse: a mad alicorn goddess of fire and hate could escape from her millennial imprisonment on the sun and try and conquer Equestria.
But what are the chances of that?
A prequel to Boast Busted
Part of the Lunaverse
Now has a TVTropes Page!
Chapters (18)