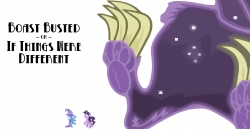 The now-famous first story of the Lunaverse!
This is the story of Trixie, the Element of Magic and the personal student of Princess Luna. It has been some months since this unicorn moved to Ponyville to learn about the magic of friendship, and, more specifically, how to not let her abrasive personality drive away the friends she does make. So far, she has succeeded, becoming a welcome part of Ponyville life, and as such has decided to put on a magic show for Ponyville during the Eventime festival, the celebration of the spring equinox.
However, a certain purple-coated unicorn seems determined to ruin her fun, and everypony elses'. This unicorn has traveled far to learn as much about magic as she can, and was excited to learn at the hooves of the Element of Magic herself. What she finds in Ponyville, however, leaves this purple-coated unicorn...disappointed. She resolves to take drastic steps to show Trixie what real magic is all about!
...this could end poorly.
Now has A TVTropes Page!
Chapters (5)