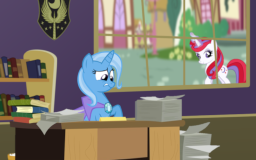 Source
Set in RainbowDoubleDash's Lunaverse. Trixie greatly underestimated the amount of paperwork expected from a Representative of the Night Court of Luna. At Lyra's suggestion she decides to hire an assistant to help her out around the office. She puts up ads all over town and gets ready to receive interviewees.
What could possibly go wrong?
For official chronological order of Lunaverse stories, and everything Lunaverse, please come visit us in the Lunaverse Group!
Many thanks to FredMSloniker for editing and proofreading.
Chapters (3)