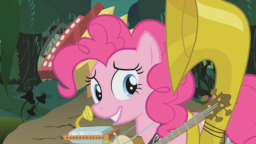 Trixie finds Pinkie Pie irritating... at best, but when a parasprite finds its way into Ponyville and begins multiplying, she and the Luna Six need her help to contain the plague before it gets out of control... or more out of control than it already is.
Part of the Lunaverse, created by RainbowDoubleDash. Takes place about a week before Boast Busted.
Lunaverse trope page.
Episode trope page.
review.
And thanks to Emeral Bookwise for the theme song used in chapter two.
Chapters (6)