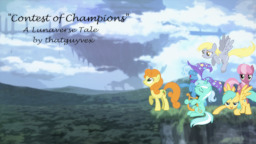 Long ago the nations of the world faced a deadly threat from a powerful conqueror. Divided by their differences the peoples of the world nearly fell alone, one by one. But champions arose who exemplified the virtues of their cultures, and learned to work together to fight for the good of all. Inspired by these champions the varied races of the world cast aside their distrust of one another and defeated the evil that sought to grind the world under its rule. Though centuries have passed since that time the example of the champions was not forgotten, and to this day is honored by a special contest, held every hundred years: The Contest of Champions. Here, members of all races are chosen to represent their people and land in a series of games and challenges, for the sake of promoting understanding and harmony between the vast varied races of the world and demonstrate what each can be when at their best.
The call for champions has gone out, and Trixie Lulamoon and her friends, freshly dubbed Knights of the Realm and Bearers of the Elements of Harmony have been chosen to represent Equestria. It is an honor some of them are elated to bear, while others among the friends question if they can take on such a lofty responsibility. However they may feel about it the six mares from Ponyville shall travel to the Isle of the Fallen where they will face the greatest champions the races of the world have to offer; from veteran griffin soldiers and enigmatic zebra martial artists to mighty cervid warrior skalds and a kirin royal heir obsessed with obtaining victory by any means. On top of that, Corona herself has designs upon the Contest, and others attending the event may have plans that have nothing to do with promoting harmony and understanding.
Based on RainbowDoubleDash's Lunaverse, this story is canon and part of Season 2, taking place in the spring-arc.
Chapters (20)