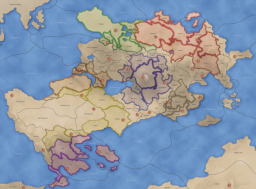 While cleaning out her basement, Cheerilee comes across a long forgotten board game. Deciding to give it a shot, she invites her friends over for a night of fun. Unfortunately, she's unaware of the reputation this game has gained. For you see, in Diplomacy, the number one rule is: Never play this game with friends, or you may need to find new friends...
Takes place in the Lunaverse, season 2, during the Winter arc. There really do need to be an option for six tags, but until then, an additional tag for Cheerilee.
---
This has a sister-story named Six Best Friends Play Diplomacy, which features the Mane six instead. It isn't going to be the same story with swapped names; each group has different personalities so both games will be very different. I just couldn't decide which group of six would be more interesting, so I wrote both. I must hate free time...
Oh My God, my first story to get featured! Thank you, everyone! 7/27/14
Chapters (10)