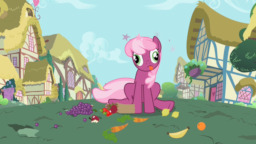 Everypony loves Cheerilee -- except, apparently, for an old friend of hers from college, who has just returned to Ponyville with a score to settle! It's a wild race around town as Cheerilee attempts to flee her former companion long enough to figure out what, exactly, she did -- she was a bit drunk at the time, and her memories are rather hazy -- and how she can make it up to her. Not to worry, though: if Cheerilee can't set things right, her students are happy to help out!
...for a generous definition of 'help.'
Lunaverse story, set in the Fall portion of Season 2. Thanks to Blackbelt for helping and betaing!
Chapters (6)